ThirdEye is a bonding device which is optimized for remote video surveillance in PTZ camera applications. The ThirdEye field unit can add up to 4 modem connections at a time and develop a higly reliable IP connection which is optimized for local video surveillance in PTZ cameras. ThirdEye peer link with ThirdEye server to maintain bonding with both the uplink and downlink directions. So, the PTZ video feed will be great and reliable quality.
ThirdEye is suitable for mobile device and optimized for remote video surveillance applications where it can be used in moving vehicle and without a wired network connection. Mushroom Networks Broadband Bonding technology optimizes the available several Internet connections that are connected to the ThirdEye unit to shield the negative effects of the unreliable connections from the video application layer.
High quality video delivery over bonded 3G / 4G wireless cards - ThirdEye uses award winning bonding technology that is optimized for delivering live video from PTZ cameras over aggregated 3G / 4G wireless data cards to the command and control center location. This bonding technology provides support for higher quality video settings, such as higher resolution, higher frame rate as well as unmatched professional grade reliability for remote video surveillance.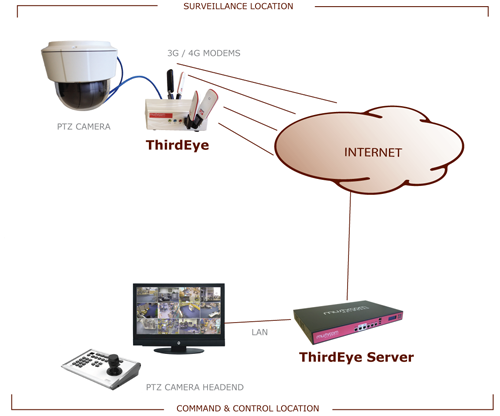 Transparent setup - ThirdEye is designed to simply slide into your video security camera work-flow without any change required. Simply replace your wired connection that you normally use to connect to your PTZ camera or gateway with the ThirdEye field unit that is peered with the ThirdEye server and you can start monitoring and managing your PTZ camera remotely.
Reliable video feed - ThirdEye is designed to cope with and shield the unavoidable fluctuations and performance variations of the cellular Internet connections. The net result is reliable remote video surveillance even when some wireless cards may disconnect.
High Speed Internet access - When not feeding video, ThirdEye doubles as a Broadband Bonding Network Appliance for high speed Internet access over the bonded 3G / 4G wireless cards for data applications.
Support for any service provider for 3G / 4G data cards - You can use cards from any carrier in any country. Please contact us for the latest list of supported data cards.
1. Can I use ThirdEye with my PTZ camera?
Yes, most PTZ camera systems are supported.
2. How many cards can I bond with ThirdEye?
Four.
3. What type of video input can the Streamer support?
ThirdEye will accept encoded video (such as motion jpeg) via an Ethernet port from your PTZ camera. ThirdEye does not support any other video encoders other than PTZ cameras. For support of other video encoders please check out our Streamer video streaming product line.
4. How portable is ThirdEye?
ThirdEye is ultra light at 1.32 lbs and has a very compact form factor that fits in your one hand. Streamer can be powered by 12V DC from the included power adaptor, or via the optional rechargeable battery pack.
5. Can I have a Command and Control Center in a moving vehicle for the Third Eye remote video surveillance application?
Yes.
6. Can I remotely, pan, tilt and zoom with my PTZ camera that is connected to a Third Eye device?
Yes. Third Eye is designed for remote video surveillance and you will be able to remotely manage your PTZ cameras.
7. Does ThirdEye require special remote video surveillance software?
ThirdEye replaces the wired Internet in your remote video surveillance system. So you can continue using your existing PTZ cameras and monitoring system with ThirdEye.
Brochures:
| | | |
| --- | --- | --- |
| | ThirdEye 8000, the remote video surveillance solution | |
| | ThirdEye, the 4 usb port remote video surveillance solution | |
Please contact Mushroom Networks, Australia for the ThirdEye User's Manual and other documentation.