Truffle V is also a defined WAN Orchestration software, which can be installed and applied on a Virtual or main data center like the hypervisor include VMWare Hypervisor or Xen Hypervisor. Truffle V can be used with the remote Truffle and Truffle Lite appliances in the branch offices by connecting it to the data center. There will be some overlying tunnels between the branch offices and the data centers, Truffle V can help in leveraging the bonded WAN lines at the branch offices. These bonded channels can help the IP traffic to flow in regular and leverage way between the data centers and the branch offices. Hub-and-spoke star topologies or mesh topologies are supported.
The sub devices Truffle, Truffle Lite appliances will uses the Virtual Leased Line tunnels between the branch offices by WAN Orchestration of the WAN links through the Truffle V to maintain high performance and reliable Internet speeds.
Application Armor with Session Keep Alive - Truffle V monitors and intelligently reacts in realtime to mitigate any performance degradation caused by the WAN links at the branch offices. Managed parameters and network problems include packet loss, latency, jitter, cross-traffic, buffer management, MTU problems, black holes as well as others. In case of packet loss, spike in latency or any other degradation on any of the WAN links at the branch office, the VLL tunnel between Truffle and Truffle V maintains the ongoing IP sessions without loss of performance by shielding the effects of dropped WAN link, lost packets, high latency on any of the links. 2G/3G/4G cellular cards can be added as standby WAN access links for additional reliability.
Aggregated point-to-multipoint Capacity with Virtual Leased Line - Truffle V is a software that runs on a Virtual Machine hypervisor to enable branch offices WAN orchestration. Truffle V can be peered over the Internet to a number of Truffle devices in remote branch office locations, to create a bonded pipe between the two locations (such as a data-center and the branch offices). In this peered mode, all uplink and downlink traffic between the head-quarter-office/data center and the branch office location(s), including VPNs, can utilize the aggregated bandwidth of the combined Internet access links.
Acceleration at the branch offices - Truffle V can be configured such that all HTTP downlink sessions at the branch offices are aggregated locally, for faster transfer over the aggregated WAN connections at the branch office. Truffle devices at the branch offices can load balance traffic with packet granularity. Even in cases of single HTTP session (an example of such a session is a single file download), all Internet access lines are simultaneously and intelligently combined together to provide a faster data transfer for that single session.

Advanced Quality of Service (QoS) - Various adaptive quality of service features enables dynamic bandwidth reservation for your selected applications and traffic types, that adaptively reserves bandwidth only when that traffic type is detected. You can also limit inbound/outbound traffic to defined bit rates, bind certain traffic types on to specified WAN links, manipulate traffic based on TOS identifier, block certain traffic types and much more.
Traffic Monitoring - A history of your traffic usage based on type, prototcol, interface or layer 7 deep packet inspection identification are presented with multi-color graphs with a time scale from seconds, minutes, hours, days and months.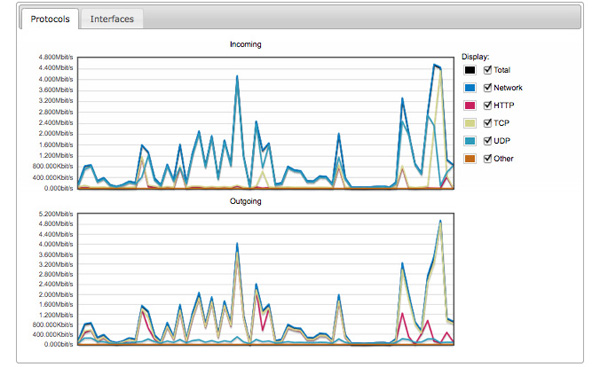 DNS load balancing for inbound requests - Truffle V can easily be configured to provide Dynamic DNS load-balancing for inbound requests for internally hosted servers such as web-servers, ftp-servers, mail-servers etc.
Additional features include: DHCP server (can be turned off), state-full firewall (can be turned off), port forwarding, DMZ, UPnP support and others.
1. Let's say I have 6 DSL lines with 6Mbps downlink and 768Kbps uplink speed each at my branch office, after I install Truffle at the branch and Truffle V in my data center, how fast will my Internet connection be at the branch office?
When branch office Truffle is peered over the Internet to another Truffle Master device that has the VLL server license (such as Truffle V), Truffle will be enabled with total uplink and downlink speed of the 6 DSL lines, i.e. 36Mbps downlink and 4.6Mbps uplink speed. Please see our VLL (Virtual Leased Line) product from the left menu for further details.
2. In what type of VM environments can Truffle V run on?
Truffle V can run on most common Virtual Machine Hypervisor environments, such as VMWare hypervisor or Xen Hypervisor. For any specific questions, please contact your account manager.
3. Does all the office locations that are connected via VLL require BBNA devices?
In general, no, not every office requires the Truffle appliances. However, for the branch office to peer with Truffle V in the data center to enable the peered mode, the branch office will require a Truffle appliance.
4. How about VPN connections, can VLL spread my VPN traffic over all my connections?
Yes. Even a single VPN session will be spread over the available WAN resources in an intelligent manner to increase speed and reliability.
5. Do I need to order anything special from my ISP to use the Truffle?
No.
6. Will I need to reconfigure my existing network in my data center to install Truffle V?
No. As long as your Virtual Machine host is reachable, there is no special network re-configuration required.
7. Besides the Broadband Bonding®, and WAN Virtualization technologies, does Truffle V also provide inbound DNS load-balancing?
Yes.
8. What happens if I have a fast connection for my Truffle V in my HeadQuarters (or Data Center) such as fiber or DS3 and I funnel all my branch office traffic through that location. Will VLL help in this scenario?
Absolutely. The VLL created by having Truffle units at branch offices peer to a Truffle Master unit (such as Truffle V or Truffle Master with VLL server) will enable your branch offices with aggregated traffic from/to your branch offices. If your branch office is accessing the public Internet through your HQ or colo (let's say through a VPN), the branch office will enjoy bonded speeds not only for point to point connection to the HQ or colo, but for the traffic to/from the public Internet as well. Optionally, you can configure your branch office Truffles to do bonding locally for http downlink traffic without going through the Truffle Master unit.
Brochures:
| | | |
| --- | --- | --- |
| | Truffle V - (WAN Orchestration on virtual machine) | |
| | Application notes on Virtual Leased Line(VLL) between data center and branch offices | |
White Papers:
Click here, to download an application scenarios and ROI analysis white-paper.
Please contact Mushroom Networks, Australia for the Truffle User's Manual and other documentation.