Truffle is a cost-effective, self-handling internet access appliance which is defined by WAN Orchestration and Broadband Bonding. Truffle enables internet access to so many businesses, enterprise branch offices and other multi-tenant buildings by load sharing, load balancing and internet bonding using intelligent Software Defined WAN orchestration with aggregation of multiple internet access line to make the internet access reliable and fast. Truffle balances the load and orchestrates up to 4 or even up to 12 connections to increase the accessibility to the user. Truffles can use several T-1, DSL, cable modem, MPLS, metro-ethernet or fiber services and combines their ISPs to give the user with increased bandwidth.
Truffle router is a great option for every business as it quickly provides Return on Investment (ROI) and the operating expenses are cheaper. The whole subscription cost of the Truffle is less or equivalent to single high speed ISP connection with the same bandwidth and the main thing here is the load sharing. Truffle becomes a very ideal load balancing router for small businesses, and branch office enterprises. Software Defined WAN (SD-WAN) design of Truffle router is efficient and can manage any type of WAN connections. You can download an application scenarios and ROI analysis white-paper by clicking here.
Besides Software Defined WAN aggregation, Truffle is also a stateful firewall, bandwidth manager, Internet failover, traffic monitoring and traffic shaping appliance that is packed with cutting edge adaptive Quality of Service features - all in one box. Truffle is powered by our enterprise grade Software Defined Networking (SDN) architecture that is dependable, scalable, and remotely manageable and field upgradable.
Downlink and Uplink Bonding in peered mode - Truffle is a load balancing router with packet level Software Defined WAN aggregation. Truffle bonds Internet access lines for all types of traffic (including encrypted traffic such as VPN) for aggregated downlink and uplink capacity when peered over the Internet with another Truffle located at the headquarter office or data center. For single office setups optional Broadband Bonding Service subscription enables downlink/uplink bonding.

Acceleration - All HTTP downlink sessions are aggregated for faster transfer via the Broadband Bonding WAN aggregation technology. Truffle is a load balancing router with packet granularity aggregation. Even in cases of single HTTP session (an example of such a session is a single file download), all Internet access lines are simultaneously and intelligently combined together to provide a faster data transfer for that single session.
Self Healing WAN for High 9s Network Reliability - In case of Internet access line failures, the Truffle keeps the ongoing sessions alive by making real-time per-packet routing decisions, even for the sessions in progress (in peered mode), without loss of data integrity. Additionally automatic failover protects against failures of one or more WAN link outages. Automated Domain Name Service (ADNS) optimization is used to maximize the utility of all active access lines, with automated email, syslog or SNMP alerts.
Application Armor with Session Keep Alive - When peered to a head-office Truffle Master unit, the Truffle Master unit monitors and intelligently reacts in realtime to mitigate any performance degradation caused by the WAN links at the branch offices. Managed parameters and network problems include packet loss, latency, jitter, cross-traffic, buffer management, MTU problems, black holes as well as others. In case of packet loss, spike in latency or any other degradation on any of the WAN links at the branch office, the VLL tunnel between Truffle and Truffle Master maintains the ongoing IP sessions without loss of performance by shielding the effects of dropped WAN link, lost packets, high latency on any of the links.
Elastic Static IP - A static IP in the cloud is provided as part of the optional Broadband Bonding Service and is mapped onto the Truffle. This means that static IP is available for services and inbound network access even during WAN outages, as long as at least one of the WAN links is up.
Cellular 3G/4G WAN connection - Truffle supports 2 USB ports for cellular 3G/4G data cards. The cellular data card dongle can be configured as a fail-over-only or always-on WAN connection. In fail-over mode, in case of all the wired Internet access lines fail, the cellular data card will take over in less than 30 seconds.
Advanced Quality of Service (QoS) - Various adaptive quality of service features enables dynamic bandwidth reservation for your selected applications and traffic types, that adaptively reserves bandwidth only when that traffic type is detected. You can also limit inbound/outbound traffic to defined bit rates, bind certain traffic types on to specified WAN links, manipulate traffic based on TOS identifier, block certain traffic types and much more.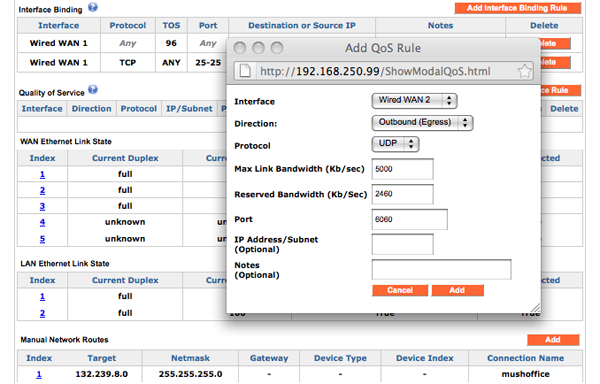 Traffic Shaping, Monitoring & Alerts - A history of your traffic usage based on type, prototcol, interface or layer 7 deep packet inspection identification are presented with multi-color graphs with a time scale from seconds, minutes, hours, days and months. Various realtime and nonrealtime traffic types can be filtered and shaped. SNMP or non-SNMP alerts provide in depth network visibility and intelligence.
DNS load balancing for inbound requests - Truffle can easily be configured to provide Dynamic DNS load-balancing for inbound requests for internally hosted servers such as web-servers, ftp-servers, mail-servers etc.
Intelligent session-based load balancing - In peered mode, Truffle will bond all types of traffic in downlink and uplink. Without peering, non-HTTP downlink sessions and all uplink sessions initiated from the Local Network, will be session based load balanced intelligently across the WAN lines. The application and cookie semantics will be preserved.
Pass-through installation – For installing Truffle into your existing network, no changes are required at your firewall or network. Simply slide in the Truffle between your existing network/firewall and your existing modem and add the additional WAN links as you need. All the installation and configuration can be done through the web-based management interface locally or remotely.
No coordination with ISP - With the Truffle, no new equipment or software is necessary from your Internet Service Provider(s) and all ISPs are supported. A user-friendly web-based management interface is provided for quick and easy configuration and system monitoring, either locally or remotely over the Internet.
Built-in Firewall & Router – Truffle can be configured either in pass-through to function inline with the existing legacy firewalls/routers or, if preferred, can be installed as the primary firewall/router.
1. Let's say I have 6 DSL lines with 6Mbps downlink and 768Kbps uplink speed each, after I install Truffle, how fast will my Internet connection be after WAN aggregation?
Truffle can operate in 3 modes:
a) When peered over the Internet to another Truffle device that has the VLL server license, Truffle will be enabled with total uplink and downlink speed of the 6 DSL lines, i.e. 36Mbps downlink and 4.6Mbps uplink speed. Please see our VLL (Virtual Leased Line) product from the left menu for further details.
b) Via the optional Broadband Bonding Service subscription, the Truffle will be enabled with the total uplink and downlink speed of the 6 DSL lines, i.e. 36Mbps downlink and 4.6Mbps uplink speed.
c) If Truffle is not peered to another Truffle with VLL server module or does not have the Broadband Bonding Service, then Truffle will operate in standalone mode. In standalone mode all http downlink traffic will be bonded (i.e. file downloads will happen with 36Mbps). For all other types of traffic intelligent load balancing will distribute the traffic on a session by session basis and therefore for a single non-http session or for a single upload session the speed will be limited to one of the DSL lines, i.e. 768Kbps.
2. How many LAN interfaces does the Truffle support?
Two. In order to provide aggregated Internet access to more than two local devices, the uplink port of a router or switch can be connected to the Truffle, and the local devices can plug into the router or switch, including a wireless router for wireless access.
3. What types of addresses does Truffle support?
Truffle supports DHCP, PPPoE and static IPv4 addresses assigned from your ISP. The Truffle can be configured appropriately through the web-based management interface. In the case of a static address, the LAN port of the Truffle can be connected to a switch, and devices connected to the switch can be publicly addressed from the Internet through their statically assigned IP addresses. By default, however, the Truffle uses DHCP to obtain a dynamic IP address on each Internet access line.
4. Does the Truffle support port forwarding?
Yes; port forwarding on the Truffle is configurable through the web-based management interface.
5. Is the Truffle designed to be compatible with my existing LAN equipment such as routers, switches and firewalls?
Yes. Any LAN interface on the Truffle simply replaces the Ethernet port on a DSL modem or cable modem, in an existing LAN configuration with only one Internet access line.
6. Do I need to order anything special from my ISP to use the Truffle?
No. The Truffle is a stand-alone product that does not require any special software, hardware, or configuration from the ISP(s). All that is required is the acquisition of a standard broadband Internet access service, such as provided by DSL or a cable-modem. As an example, for ADSL bonding, Truffle will act as a DSL bonding router without requiring any coordination from your ISP(s).
7. Does the Truffle offer DHCP service on the LAN interface?
The DHCP server is enabled by default, but may be disabled, or configured to use a certain range which will not conflict with statically configured devices on your LAN.
8. Will I need to reconfigure my existing network to install the Truffle?
No. The Truffle supports a "pass-through" installation, for which no changes are required to the existing office data network. No changes to firewall settings or IP address re-assignment is required with the pass-through mode. The pass-through mode was designed to accommodate existing local office networks which formerly had a single WAN connection to the Internet. In the pass-through mode, the Truffle is installed in-line between the legacy WAN modem and the legacy firewall/gateway router. The Truffle is configured in this case by entering the IP address of the legacy WAN modem and the IP address of the legacy firewall/gateway router through the web-based BBNA Management Interface. Additional WAN modems can be plugged in to the Truffle for enhanced performance and reliability on an as-needed basis, and will automatically be available to the legacy data network in the office.
9. Besides the Broadband Bonding®, does Truffle also provide inbound DNS load-balancing?
Yes.
10. Do I need the "Broadband Bonding Service" subscription with my Truffle device?
No. All Truffle devices will provide http downlink bonding and load-balancing for uplink and non-http traffic without requiring the monthly Broadband Bonding Service. Broadband Bonding Service will however provide additional bonding capability enabling bonding for all protocols in uplink and downlink.
11. How many users does Truffle support?
This depends on the Truffle model. Truffle can support offices with up to 200 employees, Truffle with performance pack add-on module can support employees with up to 2000 employees . For more than 2000 employee offices, we recommend our Truffle E and Truffle EX appliances.
12. What is load balancing router?
Load balancing router is a WAN aggregation router that has WAN link aggregation capabilities. Legacy load balancing routers aggregate at session granularity, where as Broadband Bonding load balancers by Mushroom Networks aggregate at packet granularity and therefore providing better speed, reliability and performance.
13. Is Truffle a load balancing router?
Yes, Truffle is a load balancing router with WAN aggregation technology that can bond at a packet granularity.
Brochures:
| | | |
| --- | --- | --- |
| | Truffle - Broadband Bonding with Software Defined WAN | |
| | Truffle E Series - Truffle EF and Truffle EC models with up to 24 WAN ports | |
| | Truffle EX Series with 10Gb fiber SFP port | |
White Papers:
Click here, to download an application scenarios and ROI analysis white-paper.
Please contact Mushroom Networks, Australia for the Truffle User's Manual and other documentation.