Teleporter is a video transmission technology. This helps in delivering the video in the local remote locations to the head quarter. Teleporter can be widely used for broadcasting TV channels, it helps to deliver the video by transmitting through internet bonding tools with high quality, high reliability and very low glass-to-glass latency.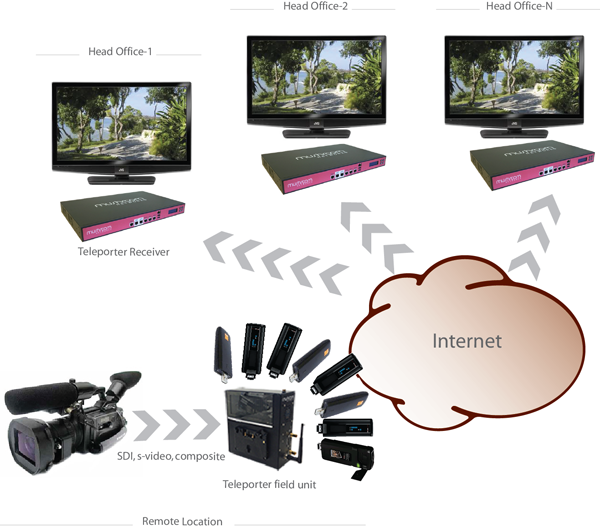 The live videos can be easily transmitted by using the Teleporter field unit by adding the respective camera to the field unit and USB modem cellular air cards by sending to the teleporter signal receiver at headquarters or even you can send it to the website or a (Content Distribution Network) CDN.
Video Streaming over bonded cellular - TelePorter enables live video streaming over bonded cellular data cards. The integrated Video Optimization Module and adaptive video encoder algorithms optimizes the bonded IP transport for live video streaming in real time and avoids any need for a satellite uplink or microwave link. You can stream to your head office or directly to the web.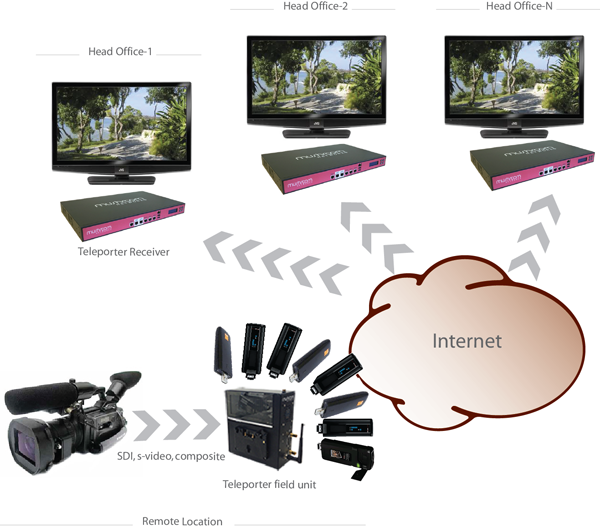 Low latency video streaming - TelePorter provides very low glass to glass latency during live video transmission, enabling interactive video applications, such as live interviews, breaking news and live events etc.
High reliability video streaming - TelePorter leverages a technology based on Network Calculus that minimizes the effects of the wireless channel variations of the cellular links and therefore enabling a very highly reliable video feed.
High quality video streaming - The cutting-edge resource allocation algorithms at the mobile location, combined with the custom video encoder provides a high quality live video transmission with high resolution and high frame rate.
Adaptive video Streaming - TelePorter dynamically adapts to the available bandwidth in realtime seamlessly and provides the best possible video feed at any given time.
Broadcast standard inputs & mounts - TelePorter uses industry standards, including S-video, composite video, SDI inputs from the camera. The TelePorter field unit can directly be attached to your camera via the Anton-Bauer mount. The Anton-Bauer battery will power both the TelePorter field unit and the camera.
1. What type of bit rates and video quality does TelePorter, the remote video streaming solution support?
TelePorter is very efficient and will bond and optimize the available bandwidth. The video bit rate can be as high as several mega bits per second and can tolerate uninterrupted video. On the other hand the bit rate can be as low as couple of hundred kilobits per second and the adaptive video encoder will change the video encoding rate on the fly seamlessly to provide a very fluid video stream with very low latency. Additional Video Optimization algorithms are implemented for low latency, high reliability and high quality.
2. How many cards can I bond? Can I bond different carriers during live video transmission?
TelePorter natively supports bonding of up to 8 cellular aircards and yes, you can bond any usb cellular aircard from any carrier in any country. Teleporter also has a built-in WiFi and a Ethernet WAN interface both of which can be used to add more bandwidth to your bonded tunnel.
3. What type of video encoding does TelePorter remote video streaming solution use?
TelePorter uses a state of the art adaptive bit rate H.264 hardware based video encoder. The encoding rate will auto adjust during live video transmission.
4. How portable is TelePorter?
The complete mobile package including the carrying case weighs under 5 lbs (2.3 kgs). The system is light and very ergonomic to carry with the included small over the shoulder backpack. The TelePorter field unit can also be directly attached to the end of a broadcast camera via the Anton-Bauer battery mount. The battery that attaches to the TelePorter field unit then will power both the field unit and the camera.
5. Can I stream to a CDN network with TelePorter or do you facilitate a CDN that I can use?
Yes, you can stream to any Content Disribution Network and live streaming websites. We also provide complete turnkey streaming solutions - please contact us for details.
6. What type of snap on interface does the Teleporter have for attaching it to the camera?
TelePorter has an Anton Bauer and IDX V-mount plate to attach to the camera.
7. If I don't want to attach the Teleporter to the camera directly, can I use it in a backpack?
Yes, Teleporter has an optional backpack.
Brochures:
| | | |
| --- | --- | --- |
| | Teleporter, live video transmission solution, for remote video streaming applications | |
| | Teleporter 1U for video distribution over bonded wired Internet connections | |
Please contact Mushroom Networks, Australia for the TelePorter User's Manual and other documentation.