VOIP Armor is a gateway which enables VOIP and SIP traffic and boosts the quality of the call. The WAN networks are shuffled sometimes and they need some load balancing, agile and adaptive WAN Orchestration approaches, VOIP helps in this way.
VOIP Armor is a device which creates a bond management between the cloud and the office which is optimized with VOIP software to achieve the fast and reliable service. The VOIP and SIP traffic will be optimized by VOIP Armor, the calls will be without any line disconnects, packet losses or any latency spikes in the internet lines. The VOIP Aromor based calls are with high quality, even the network problems are there.
VOIP measures the internet access in real time from line disconnects to packet losses and makes the call quality hassle free. This in turn results in low noises, no voice breakdown and the sound will be great. Mushroom Network proudly presents this feature to all the corporate identities for maintaining their legacy with the customers.
Both the VOIP Armor appliance and the Truffle VOIP Armor edition, are suitable for any VOIP / SIP phone system including off-premise IP-PBX, on-premise IP-PBX, or hosted IP-PBX systems.
Latency & Jitter Mitigation - VOIP Armor through the VOIP Armor Cloud Relay is capable of keeping track of various network path metrics including latency and jitter. VOIP Armor is programmed to adapt to changing latency and jitter condition to optimize the VOIP traffic performance in real time. In case one of the WAN lines carrying VOIP traffic experiences latency or jitter problems, VOIP Armor will route around that problem in real-time avoiding any negative impact on the VOIP application.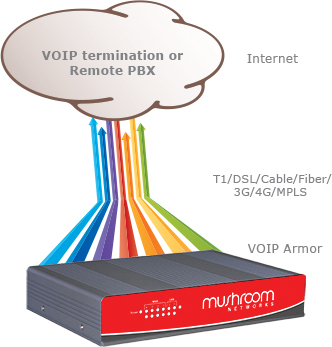 Self Healing WAN for High 9s Network Reliability - In case of Internet access line failures, the VOIP Armor keeps the ongoing VOIP/SIP sessions alive by making real-time per-packet routing decisions, even for the sessions in progress.
Cellular 3G/4G WAN connection - VOIP Armor supports 2 USB ports for cellular 3G/4G data cards. The cellular data card dongle can be configured as a fail-over-only or always-on WAN connection. In fail-over mode, in case of all the wired Internet access lines fail, the cellular data card will take over in a matter of seconds.
SIP Session Keep Alive - VOIP Armor unit monitors and intelligently reacts in realtime to mitigate any VOIP / SIP performance degradation caused by the WAN links. Managed parameters and network problems include packet loss, latency, jitter, cross-traffic, buffer management, MTU problems, black holes as well as others. In case of packet loss, spike in latency or any other degradation on any of the WAN links VOIP Armor tunnel maintains the ongoing VOIP sessions without loss of performance by shielding the effects of dropped WAN link, lost packets, high latency on any of the links.
Elastic Static IP - A static IP in the cloud is provided as part of VOIP Armor tunnel and is mapped onto the VOIP Armor. This means that static IP is available for your SIP and VOIP services even during WAN outages, as long as at least one of the WAN links is up.
Broadband Bonding for increased VOIP capacity - VOIP Armor combines 2 or more WAN links and therefore can support higher number of simultaneous VOIP calls with higher codec quality.
Pass-through installation – For installing VOIP Armor into your existing network, no changes are required at your firewall or network. Simply slide in the VOIP Armor between your existing network/firewall and your existing modem and add the additional WAN links as you need. All the installation and configuration can be done through the web-based management interface locally or remotely.
No coordination with ISP - With the VOIP Armor, no new equipment or software is necessary from your Internet Service or VOIP Service Provider(s) and all ISPs are supported. A user-friendly web-based management interface is provided for quick and easy configuration and system monitoring, either locally or remotely over the Internet.
1. Is VOIP Armor a separate device than the Truffle device?
Yes, VOIP Armor is separate device designed only for VOIP Applications. However, Truffle - VOIP Armor edition, includes VOIP Armor as a module, so that you can take advantage of VOIP Armor and all the other Software Defined WAN Orchestration features of the Truffle in one device.
2. How many WAN ports does the VOIP Armor device support?
The VOIP Armor appliance can support up to 4 WAN ports. Truffle - VOIP Armor edition can support as many WAN ports as the Truffle has (Truffle can support 4, 8 or 12 WAN ports).
3. What type of WAN links can I use with VOIP Armor?
Any WAN connection type including T1, DSL, Cable, Satellite, 3G, 4G, metro-ethernet, MPLS, fiber etc.
4. How does the VOIP Armor device work?
VOIP Armor requires a peering Mushroom Networks device (either at your data center, or hosted by Mushroom Networks) and a bonded tunnel from the VOIP Armor to the peering node is created. VOIP Armor then optimized the VOIP traffic in real-time based on sophisticated algorithms.
5. Can I use VOIP Armor with my IP-PBX?
Which PBXs are supported? Yes, you can use VOIP Armor with your PBX. Any PBX is supported that uses VOIP / SIP trunks.
6. We are using a hosted/managed PBX in the cloud, can I use VOIP Armor?
Absolutely. Any hosted PBX provider, such as 8x8, Nextiva, Ringcentral, Vonage, XO, AT&T etc., works with VOIP Armor.
Brochures:
| | | |
| --- | --- | --- |
| | VOIP Armor - Broadband Bonding & Software Defined WAN for VOIP / SIP | |
Please contact Mushroom Networks, Australia for the VOIP Armor User's Manual and other documentation.